What is Happy Science Academy?
Happy Science Academy is a junior and senior boarding high school based on the educational principle of Happy Science. By introducing religious education essential to all people, we aim to produce countless individuals who have both a noble character and academic ability and encourage them to develop spiritually as well as gain practical proficiency.
I believe in the power of education.
I want to tell young people the importance of having dreams, having ideals, making efforts and having courage.
I want them to cultivate the power that will change this country and this world into a utopia.
(taken from the words of Master Ryuho Okawa on the foundation monument of the Happy Science Academy)
The founder of Happy Science Academy
Master Ryuho Okawa is the founder and president of Happy Science Group.
He graduated from the University of Tokyo. After working at a general trading company, he established Happy Science in order to bring happiness to all humanity.
Currently, he has published over 2,500 books, many of which are best-sellers.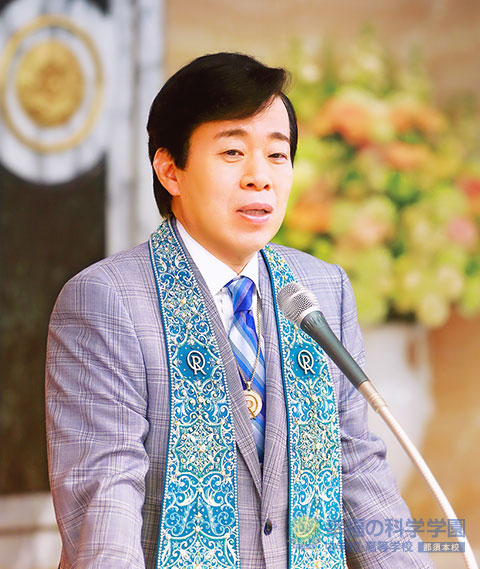 The Boarding School as an Ideal Environment to Nurture a "True Elite"
One of the merits of living in a boarding school is that it assists students' maturity. Through living with fellow young students away from home, students will develop self-discipline and stronger friendships. Especially in HSA, the boarding house is "home" and the students and staff are members of a "big family." It is a place where individuals can nurture trust in each other and develop a balanced personality in order to become leaders of the future.
A Life Based on the Spirit of Cooperation
There are two types of rooms in the boarding house. Rooms for two persons are for 7th to 11th graders and single rooms are for 12th graders. Room changes occur every semester. Students form a "team" consisting of other students from the same grade level. Simultaneously, they are part of a "family" made of teams from different grades. As students act voluntarily for others in their teams and families, they will cultivate humanity and a strong mind.
A Full Suppor System for Life in the Boarding House
House masters and house parents live with the students in the dorms as "family members." They are there to welcome the students "home" and provide assistance 24 hours a day. They assist in daily matters, provide counseling in times of trouble and keep the boarding house clean in order to maintain a comfortable living environment.
A Place to Rejuvenate One's Energy
Weekends are for the students to recharge their energy. Students will have access to the library, gymnasium, swimming pool (in summer), training room, TVs, DVDs, PC and CALL rooms.